The system was created by Nigerian polymer engineer Cletus Ekpoh, who makes his compact and portable recycling machines from locally sourced metals.
The first unit, an agglomerating machine, uses self-generated heat to convert polythene plastic, such as discarded water sachets, into a solid form before cooling the mass with water and cutting it into pellets with rotating blades in a vertical drum. This prevents the polythene going to landfill or oceans, and the pellets can be upcycled to make new plastic film, nylon agricultural bags and many other recycled products.
The second component is a crushing machine for solid plastic waste such as buckets, chairs, battery casings, kegs and bottles. It has a horizontal drum or crushing chamber with blades that break hard plastics into 2-8mm flakes that drop through holes in the bottom of the cylinder. The flakes are then used to make new plastic products including paint buckets, interlocking moulds, and clothes hangers.
The third unit is an extrusion machine that makes tubular plastic film from the pellets produced in the first unit. The material is poured into a barrel containing an extrusion screw shaft, heated to a molten form and then blown into a thin film by an air compressor. The film is passed through rollers which compress it into a 2-ply sheet of polythene for cutting into shopping bags and agricultural bags, such as those used to carry compost.
The fourth element of the Waste-to-Wealth Enhancer is a manual compressor which crushes an aluminium can to 10% of its original size, making it easier to store and transport the waste for casting of ingots, moulds, clamps, and more.
The four portable machines are designed for use at dump sites by waste pickers who can efficiently process waste into valuable recycled material for secondary production in the circular economy.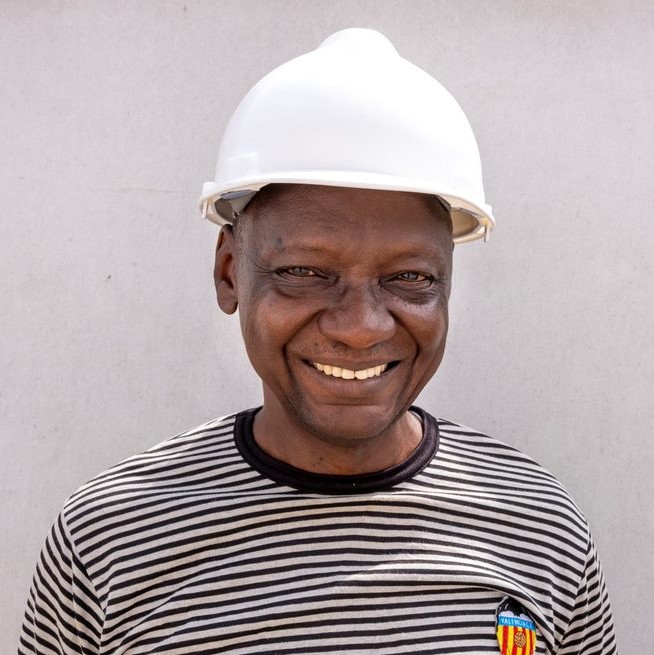 ---
"Job creation and financial empowerment is our first goal. Our machines can be operated by a layperson, who can turn the process of recycling into a regular income source. We also want to ensure that Africa buys into this idea to address the serious environmental threat posed by unregulated waste disposal and inadequate recycling."

Cletus Ekpoh