Angolan electronics engineer Cristovão Cacombe created Arobot to address the lack of robotics labs in his country's schools. He and his team are aiming to provide practical STEM (Science, Technology, Engineering, Mathematics) education and help students develop foundational skills in electronics engineering, programming and software development.
Arobot's two motors are connected to a microcontroller which communicates via Bluetooth with an open-source electronic prototyping platform, enabling users to create and programme interactive electronic objects.
The robot is battery powered with its body and wheels made from recycled 3D-printed plastic.
Arobot has ultrasonic and ultraviolet sensors which allow actions to be programmed through artificial intelligence-informed programming. A Bluetooth sensor connects it to a laptop so the robot's actions can be coded and executed. It can also be connected to a mobile phone.
Arobot comes unassembled and needs to be built from 3D-printed parts. It is usually assembled by groups of four children, which encourages collaboration and teamwork.
With the help of an instruction manual and a series of YouTube videos to confirm the build is correct, and users then code simple robot tasks in C++, Scratch or other programming languages.
The robot can be programmed to use its sensors to move in all directions, avoid obstacles or follow a specific path.
Cacombe has already provided more than 200 Arobots to over 20 schools, reaching over 1,000 people, including dozens of teachers who have been empowered to educate their pupils.
He and his team also operate eight technical education centres where Arobot lessons are offered. The online platform provides robotics, STEM and AI courses which enable Arobot to be programmed for tasks such as racing against other robots.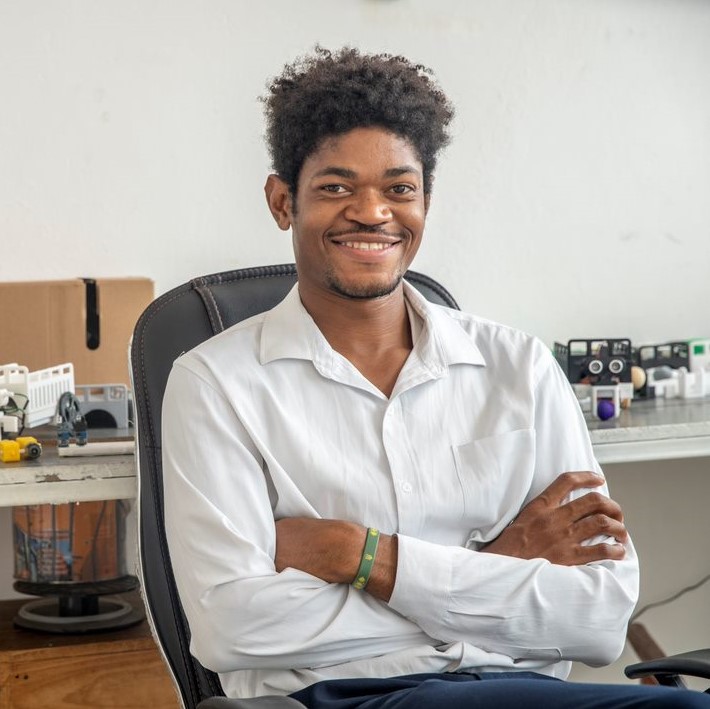 ---
"Arobot provides practical application of the theory children are already learning. Our robot has an African identity, taking the form of a vehicle all children in Angola can recognise. They are accessing valuable lab-grade experience, while having the best time."

Cristovão Cacombe