This innovation by engineer Flavien Kouatcha Simo aims to help small-scale farmers increase crop production. It enables ten times more food to be grown with 10% of the water and eliminates the need for chemical fertilisers in crop production.
Individual versions of Digital Aquaponics are made with recycled wood and tarpaulin, with industrial units made from shipping containers. They measure from four m2 to thirty m2.
The industrial unit costs £14,900 and can produce 800 kilograms of fish and 1,600 kilograms of vegetables every three months. A farmer can recoup the cost of the unit within 12 months.
Each unit has sensors to measure pH levels and nitrate ratios in the water, enabling optimum conditions for aquaculture. Data is transmitted to a web-based application, allowing users to adjust water health and track the health of their fish and plants.  
Carp and catfish are raised on the bottom level of the unit in tanks, and their excrement is pumped up into vegetable growing beds above them. The innovation is designed for produce which grows quickly, such as tomato, okra, cucumber and mint. The vegetables grow in clay and silica and no soil is required. 
Five sensors monitor key parameters and advise users through the mobile application on how to maintain optimum crop health. The app also provides aquaponics tutorials, and functions as an information-sharing platform for producers and consumers.
All certified producers registered on the Digital Aquaponics system can join a network allowing customers to directly order their fresh produce.
The aim is to connect sellers with nearby buyers, reducing post-harvest losses by up to 40% and cutting the carbon footprint of long-haul transport. The network currently has 1,200 members.
Kouatcha Simo has installed more than 200 individual units and three industrial units to date in five African countries, and has trained over 270 users. He and his team aim to train 5,000 users in the next three years. He has concluded a deal with the Cameroonian Ministry of Youth and Civic Affairs to train 10,000 young people to operate his innovative fish farm.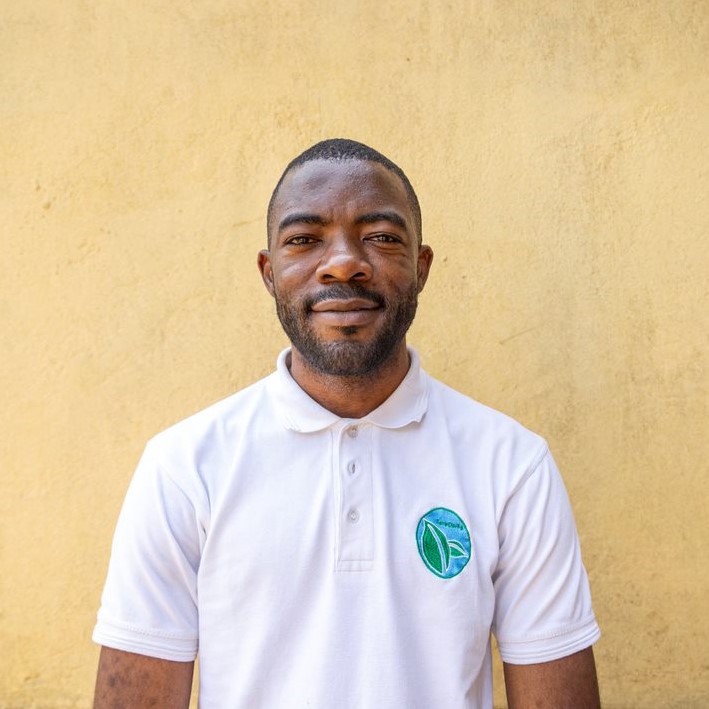 ---
"I wanted a solution for smallholder farmers like my grandmother who struggled with few resources to manage their supply logistics. Digital Aquaponics is a multi-pronged solution to the issues faced by food producers, and connects them to a network of consumers with the touch of a button. Aquaponics as a food sector has great potential for addressing food security in Africa."

Flavien Kouatcha Simo