Smart Green Stove is an efficient non-electric cooking device designed to reduce greenhouse gas emissions and health risks that disproportionately affect women and girls in Africa. It also saves time spent cooking and reduces energy use by 70%.
The stove burns briquettes made from recycled local materials such as coconut and jelly shells which are usually discarded. Its frame is made from recycled metal which houses a ceramic insulator made of clay mixed with waste coconut fibre and sawdust.
The insulator absorbs most of the heat and makes the stove nearly smokeless, reducing the soot which would otherwise be released into the environment and inhaled by those cooking a meal. Studies suggest that inhaling the smoke of typical cooking stoves while preparing a meal in one hour can have an equivalent impact to smoking as many as four hundred cigarettes.
The chimney of the Smart Green Stove can be opened and closed to ensure efficient combustion, and to regulate temperature and minimise heat loss. The device is portable, suitable for indoor and outdoor use, and comes with a two-year guarantee, after which the insulator needs replacing.
Margaret Yainkain Mansaray, an energy practitioner and gender expert, created the Smart Green Stove to reduce the time girls and women spend cooking food, helping to mitigate energy poverty. Mansaray established Women in Energy, a Sierra Leone-based company, to launch her product and work to improve the lives of girls in her country.
Her stove comes with instructions for making Green Briquettes from trees like coconuts with high calorific content. The waste is carbonised by burning in a closed drum, then mixed with casava starch to bind it, before being left to dry. Green Briquettes last longer than charcoal, reducing energy consumption. The stove can also be operated with ordinary charcoal or wood, but requires less fuel.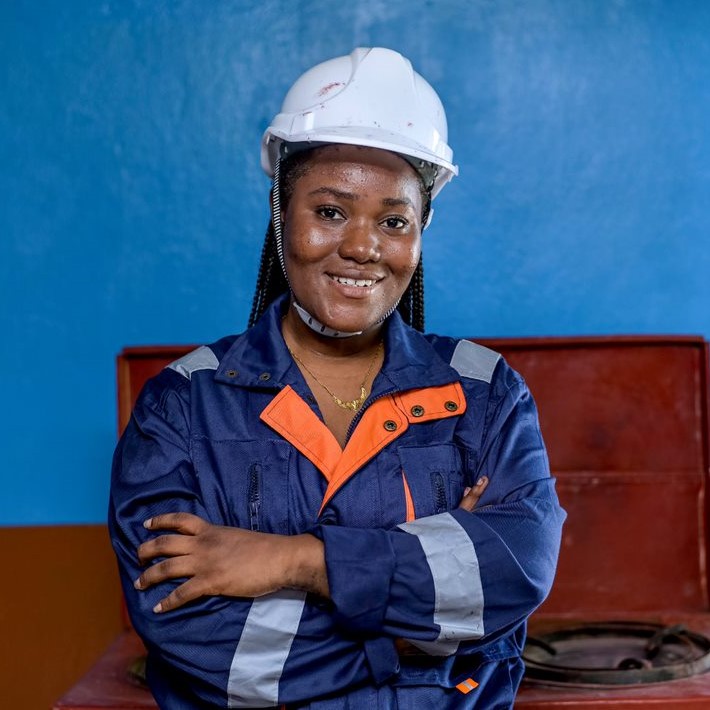 ---
"My team and I are working tirelessly to uplift women and girls by addressing time and energy poverty. This will allow them greater control of their productivity, because time is money. I've always been the only woman in a room full of men, and so one of my aims is to educate women and girls, specifically on the role engineering can play in improving their lives."

Margaret Yainkain Mansaray